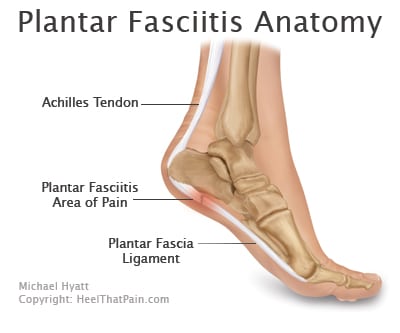 Overview
Plantar fasciitis is the most common cause of heel pain. Pain from plantar fasciitis is often most noticeable during the first few steps after getting out of bed in the morning. The plantar fascia is a thick band of tissue in the sole of the foot. Microtearing at the origin of the plantar fascia on the heel bone (calcaneus) can occur with repetitive loading. This microtearing leads to an inflammatory response (healing response) which produces the pain. Risk factors for plantar fasciitis include excessive standing, increased body weight, increasing age, a change in activity level, and a stiff calf muscle. Plantar fasciitis can be managed non-operatively in the vast majority of patients. The main components of an effective non-operative treatment program are: calf stretching with the knee straight, plantar fascia stretching, activity modification (to avoid precipitating activities), and comfort shoe wear.
Causes
Although plantar fasciitis may result from a variety of factors, such as repeat hill workouts and/or tight calves, many sports specialists claim the most common cause for plantar fasciitis is fallen arches. The theory is that excessive lowering of the arch in flat-footed runners in­creases tension in the plantar fascia and overload­s the attachment of the plantar fascia on the heel bone (i.e., the calcaneus). Over time, the repeated pulling of the plantar fascia associated with excessive arch lowering is thought to lead to chronic pain and inflammation at the plantar fascia's attachment to the heel. In fact, the increased tension on the heel was believed to be so great that it was thought to eventually result in the formation of a heel spur.
Symptoms
Plantar fasciitis generally occurs in one foot. Bilateral plantar fasciitis is unusual and tends to be the result of a systemic arthritic condition that is exceptionally rare among athletes. Males suffer from a somewhat greater incidence of plantar fasciitis than females, perhaps as a result of greater weight coupled with greater speed and ground impact, as well as less flexibility in the foot. Typically, the sufferer of plantar fasciitis experiences pain upon rising after sleep, particularly the first step out of bed. Such pain is tightly localized at the bony landmark on the anterior medial tubercle of the calcaneus. In some cases, pain may prevent the athlete from walking in a normal heel-toe gait, causing an irregular walk as means of compensation. Less common areas of pain include the forefoot, Achilles tendon, or subtalar joint. After a brief period of walking, the pain usually subsides, but returns again either with vigorous activity or prolonged standing or walking. On the field, an altered gait or abnormal stride pattern, along with pain during running or jumping activities are tell-tale signs of plantar fasciitis and should be given prompt attention. Further indications of the injury include poor dorsiflexion (lifting the forefoot off the ground) due to a shortened gastroc complex, (muscles of the calf). Crouching in a full squat position with the sole of the foot flat on the ground can be used as a test, as pain will preclude it for the athlete suffering from plantar fasciitis, causing an elevation of the heel due to tension in the gastroc complex.
Diagnosis
Plantar fasciitis is one of many conditions causing "heel pain". Some other possible causes include nerve compression either in the foot or in the back, stress fracture of the calcaneus, and loss of the fatty tissue pad under the heel. Plantar fasciitis can be distinguished from these and other conditions based on a history and examination done by a physician. It should be noted that heel spurs are often inappropriately thought to be the sole cause of heel pain. In fact, heel spurs are common and are nothing more than the bone's response to traction or pulling-type forces from the plantar fascia and other muscles in the foot where they attach to the heel bone. They are commonly present in patients without pain, and frequently absent from those who have pain. It is the rare patient who has a truly enlarged and problematic spur requiring surgery.
Non Surgical Treatment
Biomechanical plantar fasciitis can be easily reduced by correcting misalignment of the feet. Wearing orthopedic shoes for plantar fasciitis and orthotic inserts is an easy, effective method of naturally realigning the foot. Worn consistently from first thing in the morning to last thing at night, orthotic support can reduce and sometimes eliminate plantar fasciitis. Biomechanical plantar fasciitis can be easily reduced by correcting misalignment of the feet. Wearing orthopedic shoes for plantar fasciitis and orthotic inserts is an easy, effective method of naturally realigning the foot. Worn consistently from first thing in the morning to last thing at night, orthotic support can reduce and sometimes eliminate plantar fasciitis. Preserve Your Arch with Strengthening Exercises. While seated and barefoot, squeeze your foot as if you have a small marble under the ball of your foot. If you just happen to have a few marbles handy, you can actually practice picking them up between your toes and ball of your foot - and then set them down again. This stretches and helps strengthen the muscles that run under metatarsals (the longest bones in the foot which create its arched shape). Slowly Increase Physical Activity. If you're a runner, a tried and true method of preventing over-use injuries is to only increase your mileage by 10% weekly, max. If you're new to a walking program, the same caution should be exercised. Ice and Rest. After mild stretching, use a frozen water bottle to roll under the arch of your foot for 10-20 minutes. It may be possible to make an active recovery by wearing Orthaheel Technology to keep your feet naturally aligned, therefore reducing strain on the plantar fascia, while moving throughout your day.
Surgical Treatment
Most studies indicate that 95% of those afflicted with plantar fasciitis are able to relieve their heel pain with nonsurgical treatments. If you are one of the few people whose symptoms don't improve with other treatments, your doctor may recommend plantar fascia release surgery. Plantar fascia release involves cutting part of the plantar fascia ligament in order to release the tension and relieve the inflammation of the ligament. Overall, the success rate of surgical release is 70 to 90 percent in patients with plantar fasciitis. While the success rate is very high following surgery, one should be aware that there is often a prolonged postoperative period of discomfort similar to the discomfort experienced prior to surgery. This pain usually will abate within 2-3 months. One should always be sure to understand all the risks associated with any surgery they are considering.
Stretching Exercises
The following exercises are commonly prescribed to patients with this condition. You should discuss the suitability of these exercises with your physiotherapist prior to beginning them. Generally, they should be performed 2 - 3 times daily and only provided they do not cause or increase symptoms. Your physiotherapist can advise when it is appropriate to begin the initial exercises and eventually progress to the intermediate and advanced exercises. As a general rule, addition of exercises or progression to more advanced exercises should take place provided there is no increase in symptoms. Calf Stretch with Towel. Begin this stretch in long sitting with your leg to be stretched in front of you. Your knee and back should be straight and a towel or rigid band placed around your foot as demonstrated. Using your foot, ankle and the towel, bring your toes towards your head until you feel a stretch in the back of your calf, Achilles tendon, plantar fascia or leg. Hold for 5 seconds and repeat 10 times at a mild to moderate stretch provided the exercise is pain free. Resistance Band Calf Strengthening. Begin this exercise with a resistance band around your foot as demonstrated and your foot and ankle held up towards your head. Slowly move your foot and ankle down against the resistance band as far as possible and comfortable without pain, tightening your calf muscle. Very slowly return back to the starting position. Repeat 10 - 20 times provided the exercise is pain free.